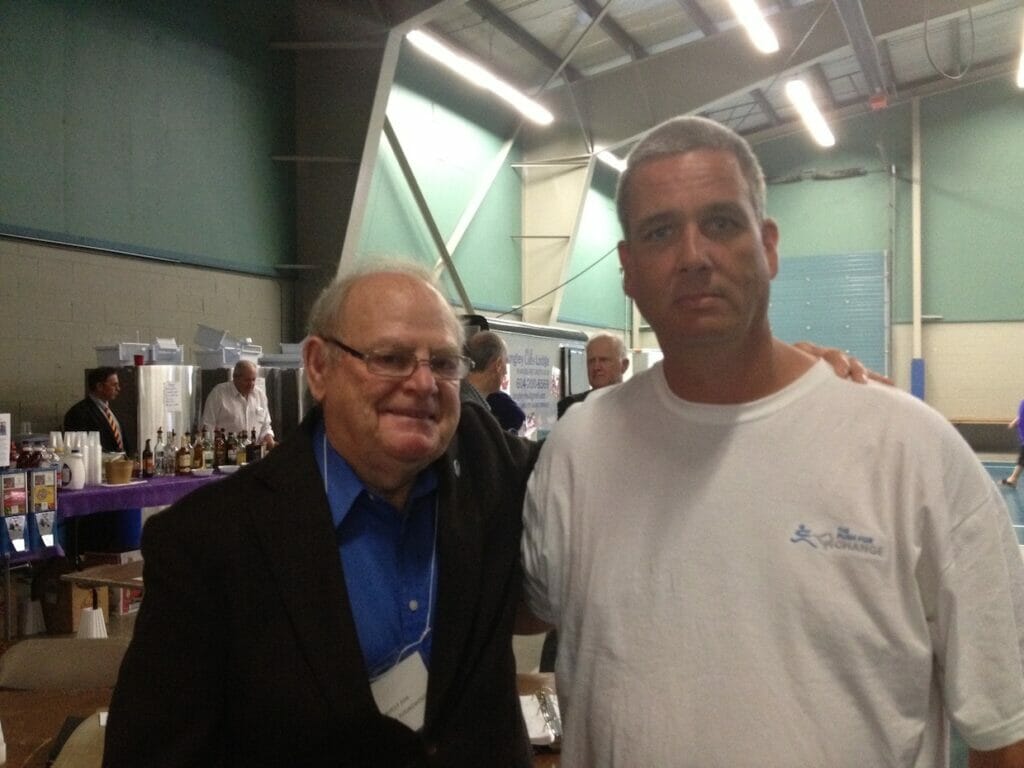 During the walk across Canada, I met a lot of extraordinary people. One of those people had a huge impact on me, although indirect.
During the Push for Change trial campaign, a friend surprised me by inviting Rolly Fox to one of our community fundraising events. I was nervous speaking that day. It was one of the most emotional days of the campaign. In fact, you can see the emotion on my face in this picture.
When I was 13, Terry Fox came though Barrie, Ontario and I was there to meet him. I shook his hand and got his autograph. How would I have known that the Marathon of Hope would be the inspiration for The Push for Change 37 years later?
As I look out in the world today, there are a lot of leaders giving their everything, putting in extra hours, scratching the bottom of the barrel trying to find ways to continue to inspire and engage their people through what seems like the impossible.
Some days it just feels like you're not going to win. You give everything you have but still come up short, or so it seems. There's just not enough of you to solve the problems that your team face.
In the end, that may very well be so, but what if while you're doing this, others are watching and taking stock? What if the greatest work you are doing in your career is not about finishing but rather setting an example? And what if when the dust settles you look back years from now and somebody comes up and says to you, "I'm here today because of your leadership – it was your example that got me through this."
Terry Fox is a Canadian icon today. He is a fixture and an emblem of hope, courage and he embodies what it means to be resilient. But how many people know the names Rolly and Betty Fox? Two wonderful parents who molded and shaped Terry's huge heart, who helped lead this young man with the lessons of grit and determination, so that when his name was called, he knew just what to do.
Even if you're not winning, lead anyway, because at the end of the day your example is all you really leave in this world.
To Betty and Rolly Fox, we will be forever grateful for your leadership.
#skidrowceo #inspiration #motivation #success #strength #resilience #communication #leadershipdevelopment #leaders #leadership #leadershipskills #management #humanresources #purpose #believe #potential #change #growthmindset #mindset #attitude #passion #vision #hope #challenges #excellence #wisdom #courage #linkedinfam #linkedinfamily #linkedin